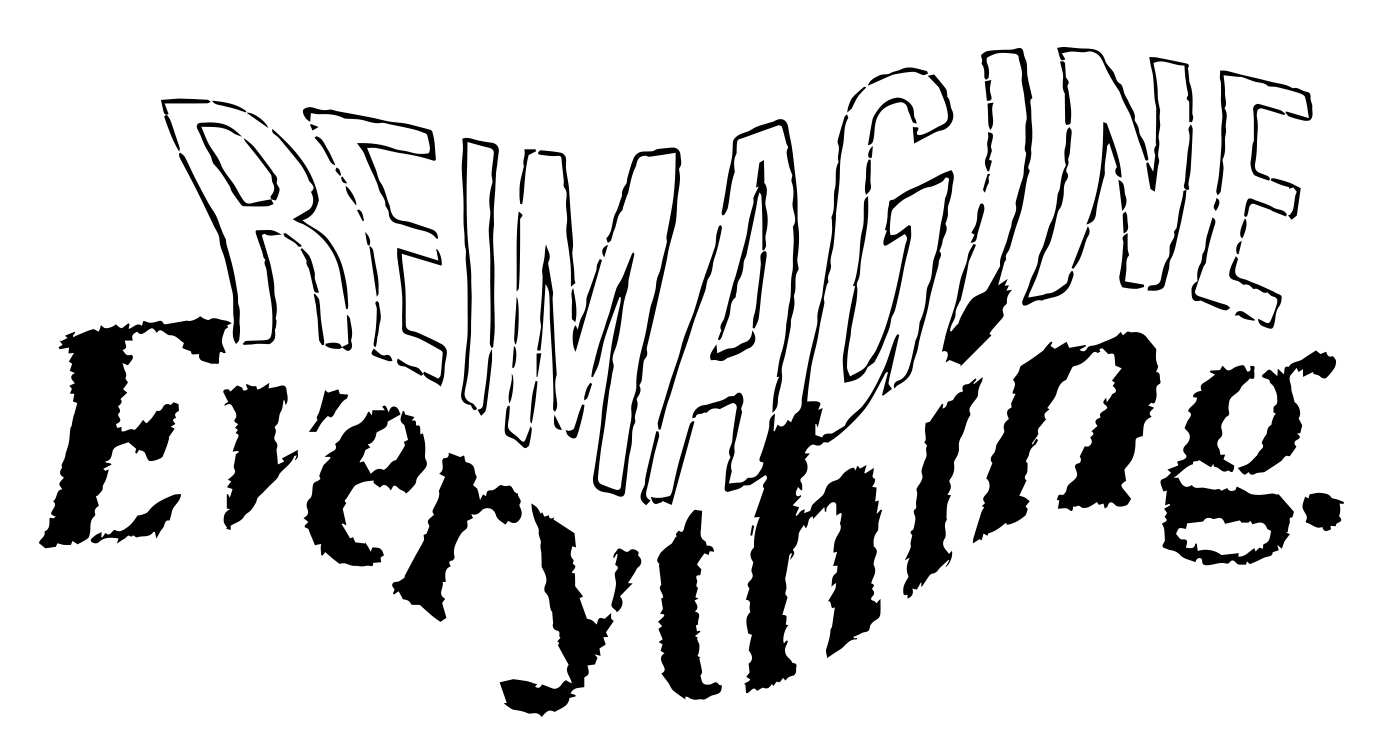 'Reimagine Everything' is a @holliswongwear x @weareuprisers collection launching May 14 with the release of "Grace Lee" this Friday. A collection to honor the legacy of Grace Lee Boggs: human rights activists who fought for civil rights, labor, feminism, the environment and more for seven decades.
Designer & illustrator @phatlip created this beautiful illustration of a young Grace Lee Boggs and graciously donated her art to the cause. We've created a capsule collection to support the Foundation's work of community organizing & education initiatives that continue Grace and Jimmy's revolutionary legacy in their home of Detroit.
50% of proceeds support the James & Grace Lee Boggs Foundation.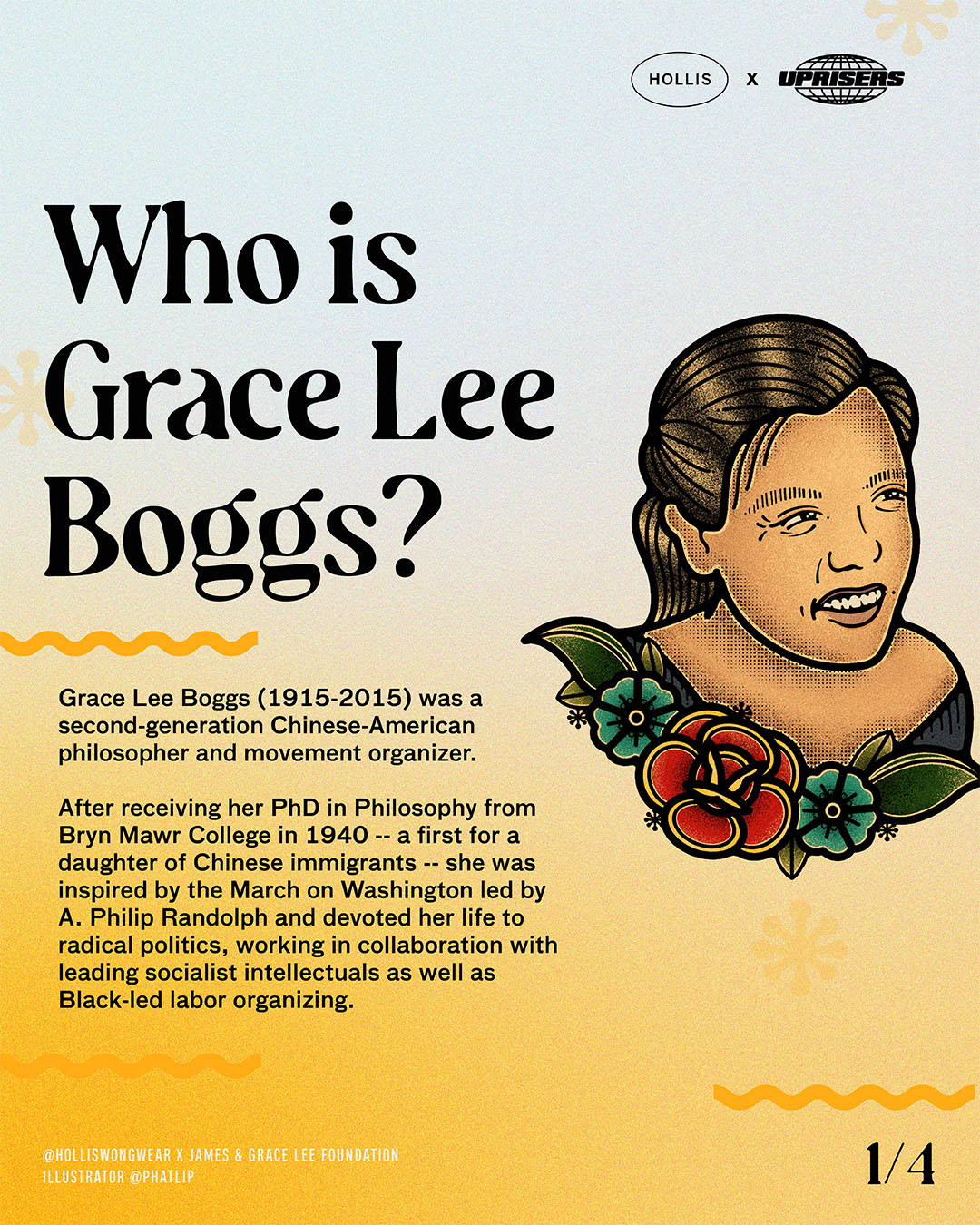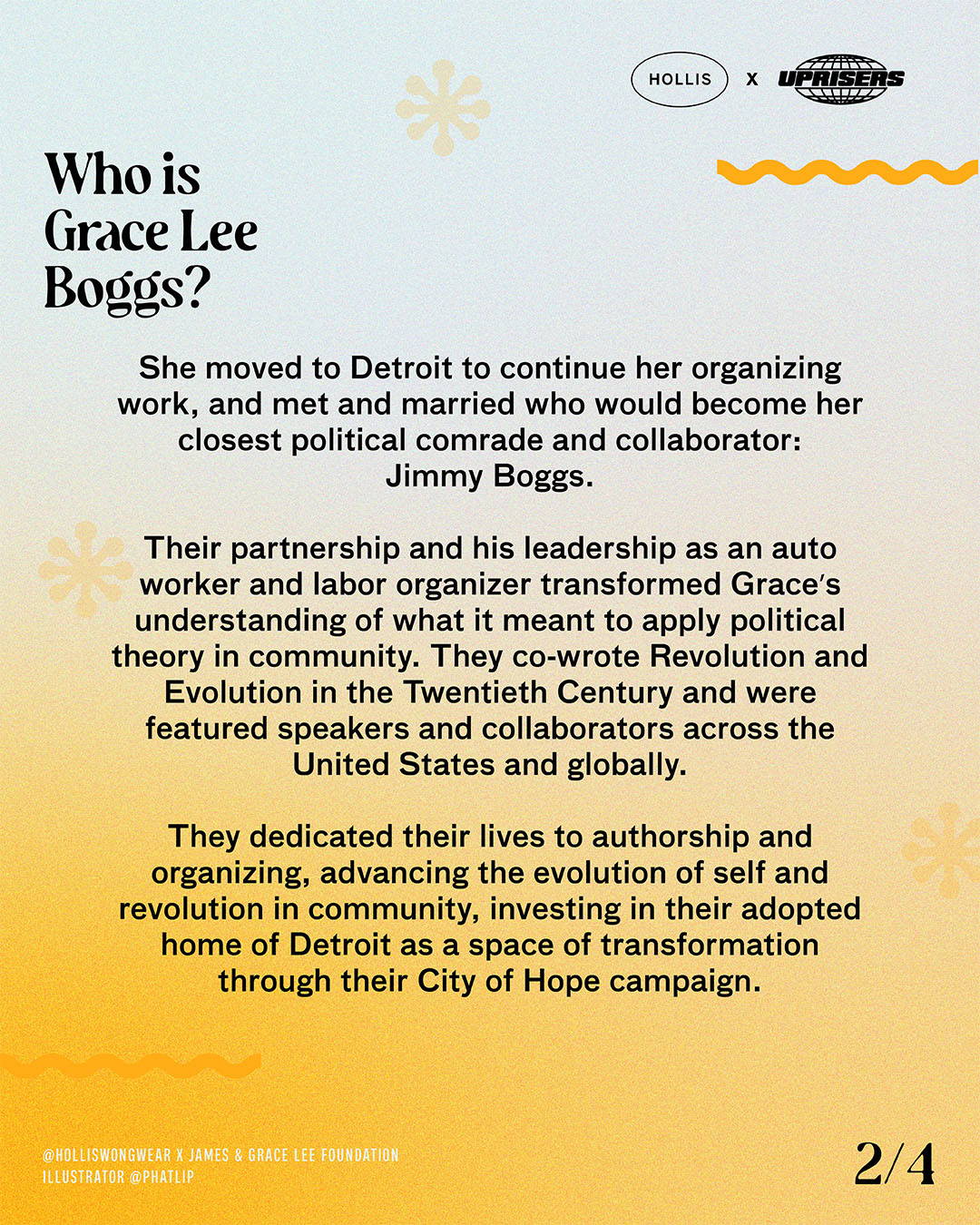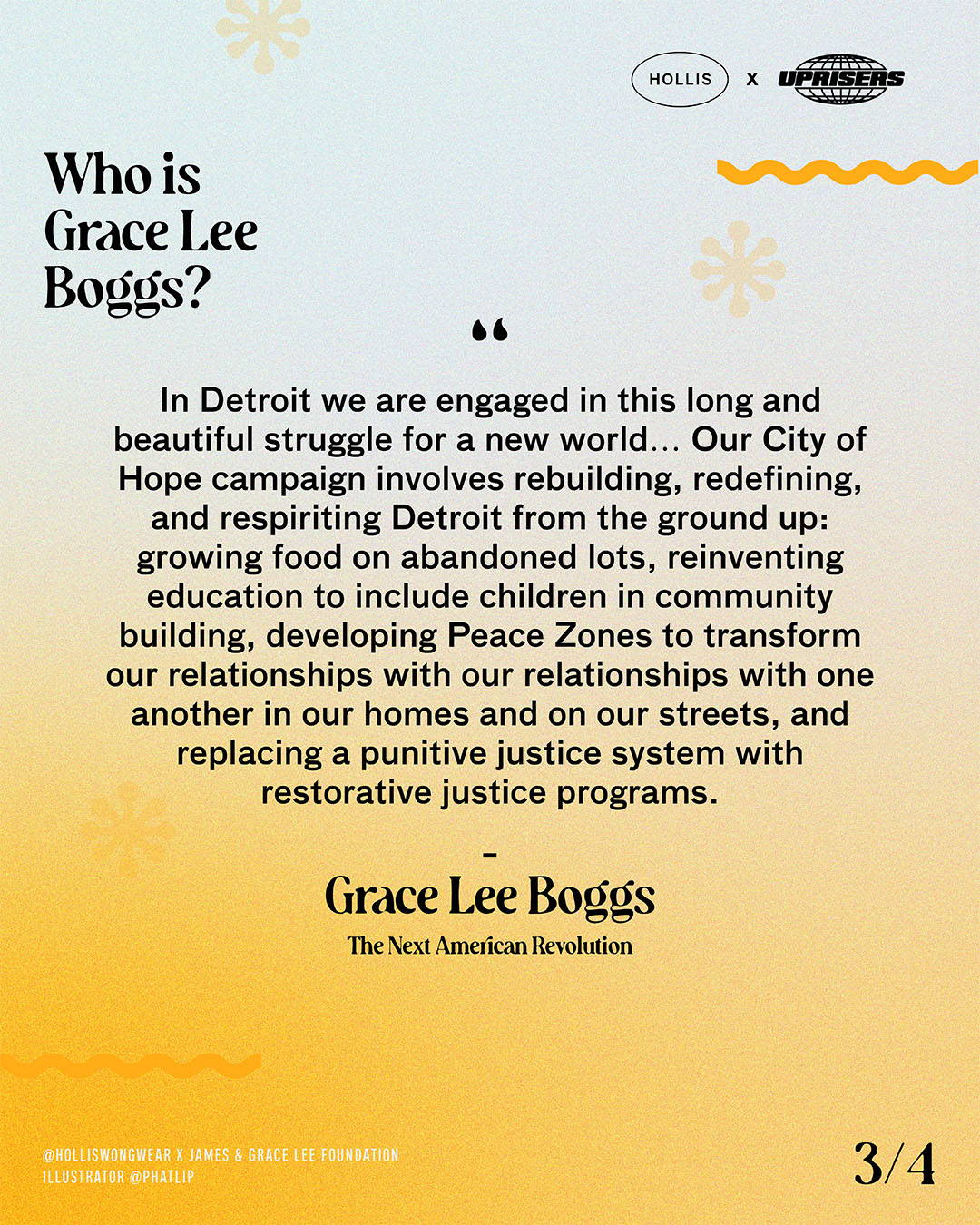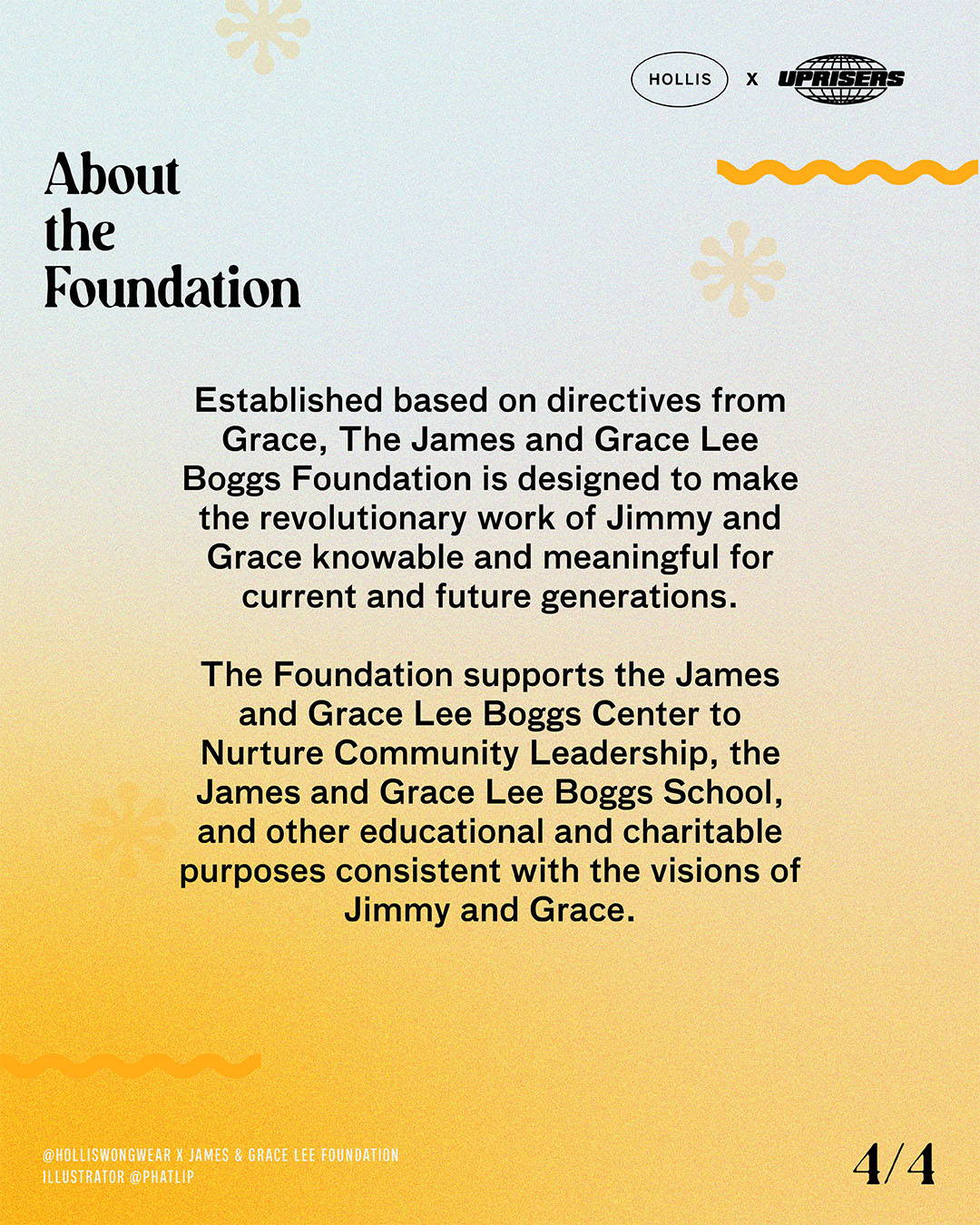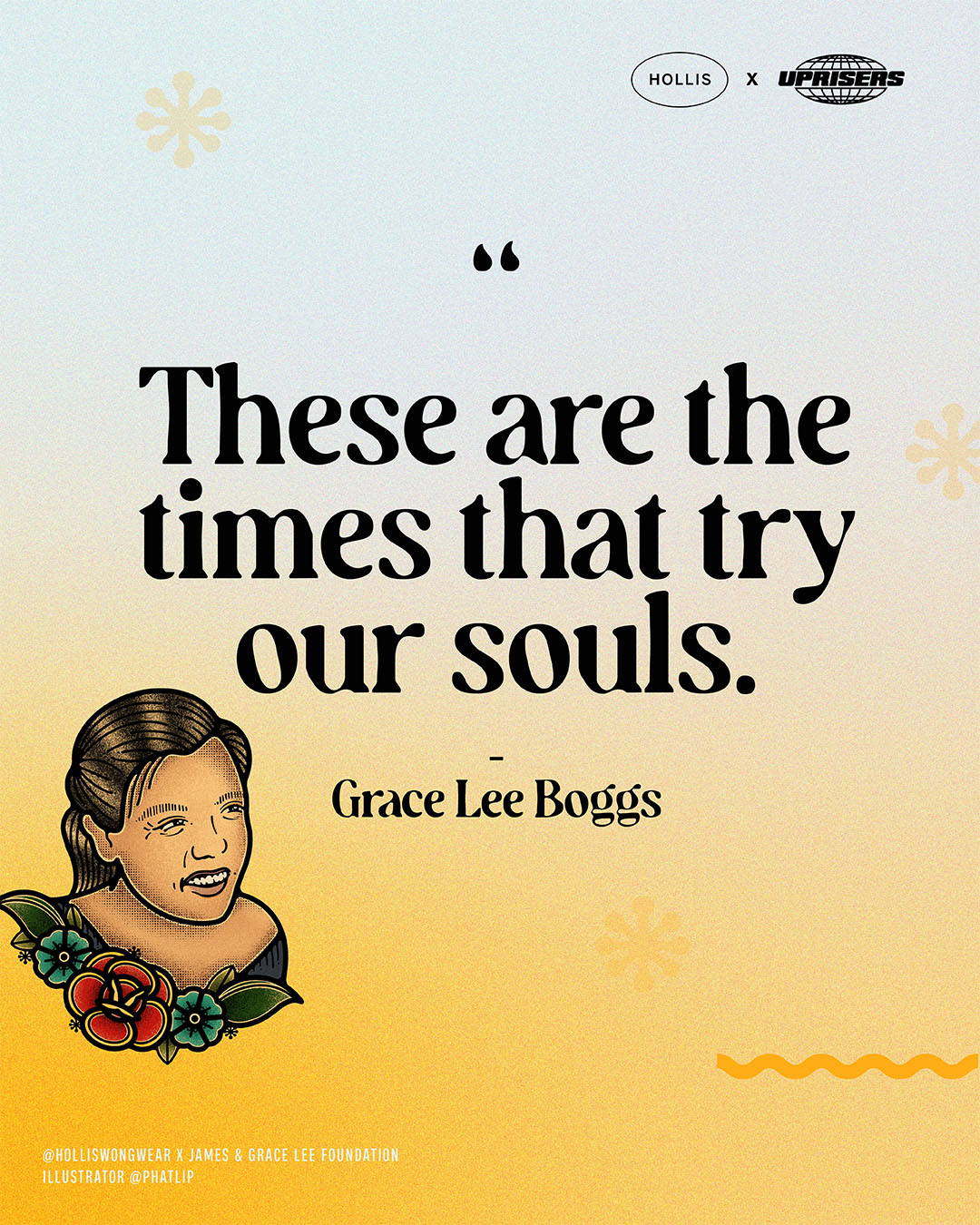 The life's work and legacy of Grace Lee Boggs (1915-2015) has long been a guiding light for me as an artist invested in social change. As an Asian American youth finding my place and identity in creative community, I learned of Grace and her fervent belief that imagination and creativity were central to the work of activists and organizers, and it grounded my desire to pursue my path as an artist.
While I knew of her singular place as a Chinese-American activist alongside labor organizers in her adopted home of Detroit, it was only after reading her memoir Living For Change and the last book she co-authored before she passed, The Next American Revolution, earlier this year that I gained a deeper understanding of and resonance to her story. I had no idea that she was born above and was raised in her father's Chinese restaurant, first in Providence, RI, and then in midtown Manhattan. I also had no idea that, as the American born daughter of Chinese immigrants, she was unprecedented in attaining her PhD in Philosophy in 1940, and how much her later activism was influenced by her scholarship and rebellion against the pretension of the academy. I learned of how her early activism career was spent collaborating with -- and often being eclipsed by -- internationally-recognized radical intellectuals, and how her partnership with her husband Jimmy Boggs awakened her to the importance of what they called dialectical humanism, constantly evolving one's ethos and perspective, never being bound to or identifying with a singular school of thought.
Her life story, dedication to movement organizing, and audacity to chart her own path deeply moved me, and in the process of integrating all I had learned about her and her vision for a more just world, I knew I wanted to write a song in her honor. Coincidentally, my frequent collaborator, producer and educator Chucky Kim, had actually spent an afternoon in her home in Detroit before she passed. Over Zoom we shared underlined passages and our mutual reverence as we built the song that's out today.
In addition, I knew I wanted this song to benefit the movement that she and Jimmy had birthed in Detroit. Thankfully, two women I admire, artist/designer Janelle Quibuyen and Michelle Hanabusa, founder of UPRISERS, were also down for the cause. We are elated to launch the Reimagine Everything Collection, where 50% of all proceeds will benefit the James and Grace Lee Boggs Foundation. The collection, designed by Michelle, includes a vintage tee, enamel pin, oversized five-pocket tote, and art print featuring Janelle's original illustration. It's available for pre-order today, and HUGE thanks in advance for any who wish to support the work of the Foundation, which works to advance and sustain the community initiatives founded by Jimmy and Grace in their home of Detroit. Click here to browse and buy!
Thank you for reading, and as we enter into a new era, one where far too many are fighting for their lives, may we be fueled by wholly new visions for what is possible.
<3 hollis